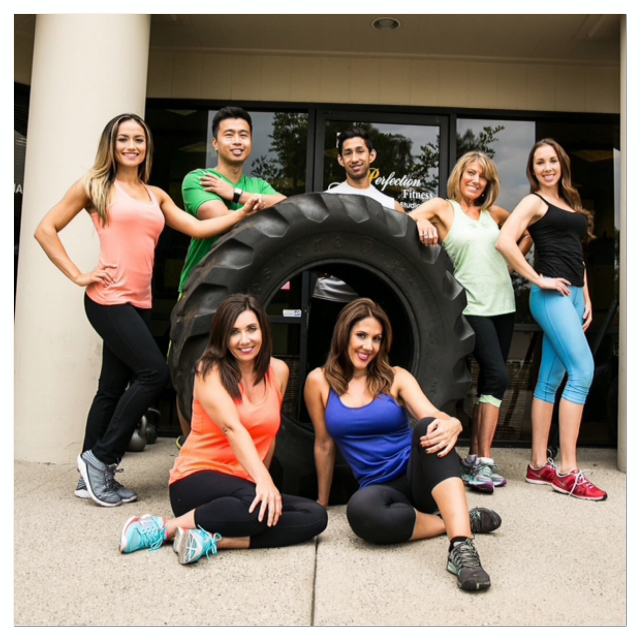 I have had a personal trainer twice in my lifetime, both from 24 hour fitness.  One I hired after my cervical fusion (neck surgery) to act as continued physical therapy.  The other time was 6 months before my wedding.  I, like many other brides, wanted to be in the best shape of my life and look incredible in my wedding photos.  Both times I thought the training experience was o.k.  But, six months with a 24 Hour Fitness trainer was 5 months too long. I used the trainer for motivation, rather than results.
A friend of mine and her husband have been clients at Perfection Fitness for quite some time.  My friend initially started training there for their expertise on post baby body revamping and continued through another pregnancy.  Her husband went to bulk up and help with a neck injury.  After seeing their results, two of their family members have started training there as well.  Positive reviews and visible results from each one.
I'll be honest, I've seen the beginning, middle and end of each person and their progress is pretty incredible.  Even during my friend's third pregnancy she was fit and healthy.  We went out one night after her baby shower and a man stopped her to tell her how wonderful she looked.  I know she is beautiful, but I think the fact that she was incredibly fit and 9 months pregnant made her stand out even more.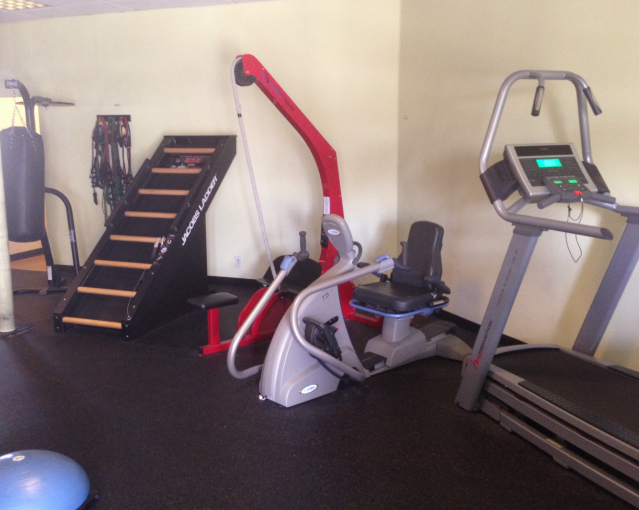 I needed to have Perfection Fitness in my gym alternatives series.  If you are like me and have only experienced the 24 Hour fitness trainers, you need to give private training a try.  It's a whole new world.  I'm not trying to knock the corporate gym trainers, but there is something different about the personal attention and knowledge of the Perfection Team.
In 2004 Melissa Maher opened Perfection Fitness to make a difference in people's lives.  She grew up watching close family members struggle with extreme health conditions, including cancer.  She knew that many of these conditions could be prevented by diet and exercise and committed her life to helping herself and others beat the odds.
Ten years later, Perfection is going strong and our community continues to benefit from her passion. Not only does Melissa help clients through her studio, she also teaches workshops, heads a Relay for Life Team, partners with our local Healthy RC News and was a trainer to a contestant on Extreme Makeover:  Weight Loss Edition.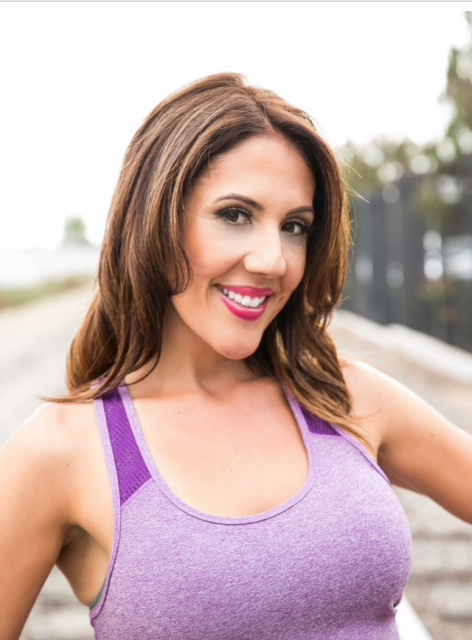 Each of the six trainers at the studio brings an educational background in their field, including a Masters in Kinesiology.  They are all experts and it shows in their training style and client results.  To read about what each trainer brings to the table, click here.
From the moment you walk into Perfection you know customer service is their number one priority.  From the fresh flowers to the fruit infused water, to the smiling helpful faces everywhere and complimentary towels.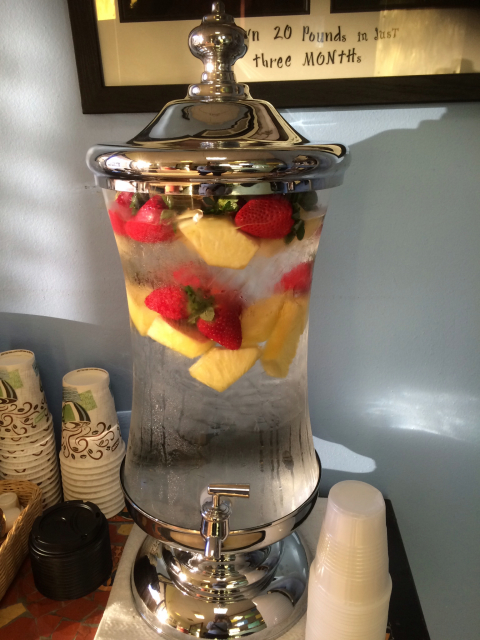 When I trained with Jason at Perfection I was the only client there, which is a typical experience.  He gave me a tour of the space and then sat down with me to address my needs and goals.  With a regular client he would take measurements and do an initial weigh in.  This information is used to create meal plans and decide which exercises will help clients reach their goal.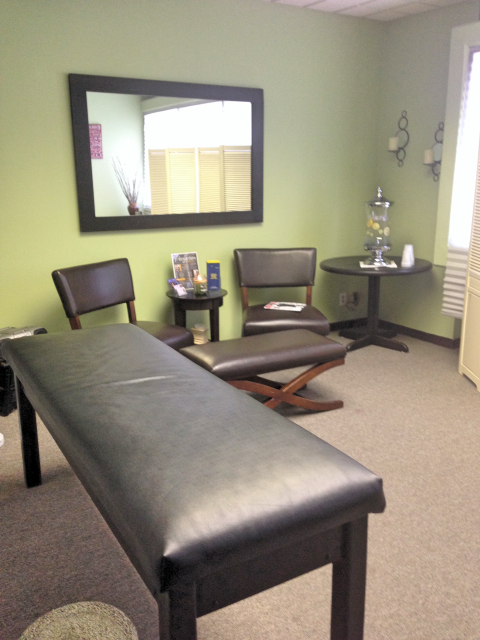 Not only do I work out regularly, but I push myself pretty hard.  I worked out with Jason for an hour, and could not walk for 5 days afterwards.  I had what is called a workout hangover.  I loved it.  Since I work out regularly my body has been in a plateau for quite some time, not changing.  In that one session with Jason he broke the plateau and my body reacted by changing.  My sore muscles proved it.
Thank God Melissa, invited me back two days later for an hour of the Ultimate Stretch, PNF stretching.  What is PNF stretching?  Ashley Black, a fasciologist, describes it this way, "PNF causes the brain to go 'I don't want that muscle to tear' and sends a message to let the muscle relax a little more than it would normally".   Stretching is essential to not injuring your body when you work out, but PNF takes it one step further.  You feel a release that regular stretching doesn't do.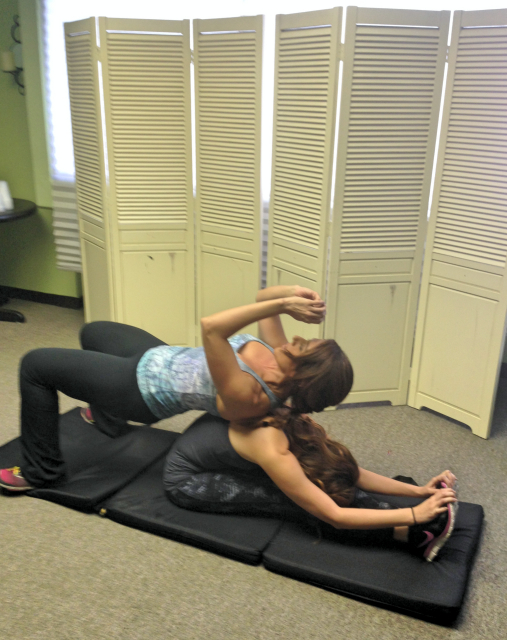 At Perfection they offer PNF stretching to their regular clients, but you can also go in and have an hour-long PNF session just like receiving a massage.  Even if you don't feel you need a personal trainer, you should go to Perfection for their PNF stretching.  After the workout hangover Jason created, I needed that stretch badly.  After the stretch my body would have yelled "hallelujah!" if it could.
My experience at Perfection Fitness was what I had hoped for in the two training experiences I had previously.  There is an innate difference in the two.  I believe their experience and education has everything to do with it.  If you are looking for motivation, or to make a change, big or small in your physique, I would highly recommend visiting Perfection Fitness.
What it is:  A private personal training studio staffed with six fit and knowledgeable trainers.
What to bring:  Yourself.  This is an all-encompassing experience.  They have water, towels, butt kicking trainers and all the equipment you will need.
Where:  9125 Archibald Avenue, Suite D
              Rancho Cucamonga, CA 91730
              Phone: (909) 477-3000
When:  All private training sessions are by appointment only.  Some group classes are drop in, others you must RSVP for.  Please click here to find out more information.
What I love:  That every trainer is an expert in their field.  Your goal is their mission.  They will get you there through training, nutrition, stretching and will help you eliminate mental road blocks.  Even if private training isn't in your budget, their group training is another option. Their groups are not the large standard gym class sizes either.  You still receive personal attention with this option.
Bonus:  Mention this blog post and you will receive two complimentary training sessions!  Click here or call Melissa at (909) 477-3000 to schedule.
Disclosure:  I was not compensated for any portion of this post.  I was given one free training session and one free stretch session to gain information for this review.  All opinions expressed are my own.