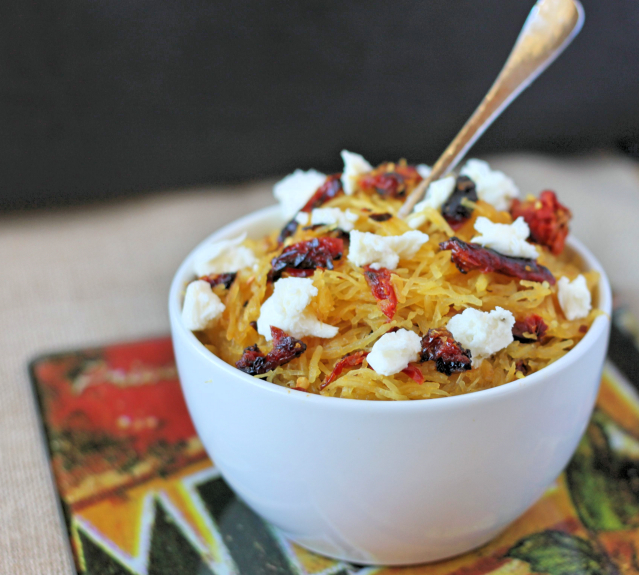 There are times when cooking dinner is seriously the last thing I want to do at the end of a busy day.  I would rather order a pizza and call it a day.  Ultimately I always regret that decision for many reasons.  First, because of the greasy s@#t storm it creates in my stomach.  Second, because my body just does not do well with that amount of dairy consumed at one time.  It's a recipe for disaster.  Pun intended. Last night I was scrambling for a dinner idea.  I always keep whole wheat pasta and a jar of organic marinara sauce on hand for emergencies like this.  Only problem is that whole wheat pasta, although great for the boys is not what I want at the end of the day.  I prefer not to eat carbs at a time of day that I can't burn them. After a quick scan I found a lonely spaghetti squash that was pleading for me to use it.  Normally I would just prepare the spaghetti squash for me, the whole wheat noodles for the kids and use the same sauce for both.  Only problem was that my back up jar had been partially used on tortilla pizzas a couple nights ago.  There was only enough for my two crazies.  So of course I gave them the sauce, the hangrys (hungry+angry=hangry) had already set in.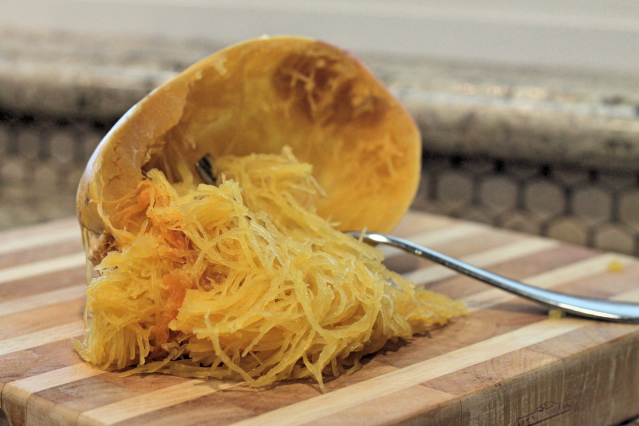 What to do for me?  Fortunately for myself and now beneficial to all of you, I am an advanced pantry recipe developer.  Did you just raise your eye brows and wonder what the heck I was talking about? Basically, I can make something from nothing like nobody's business.  I attribute it to living on tight budgets for most of my life.  It's a great skill to possess.
Don't worry though, as fancy as this recipe sounds, it sooooo simple to make.  Keeping it inline with my new simpler philosophy.  Either bake or microwave the divided squash, then pull the 'noodles' out.  Heat the Luna Olivo Basil Olive Oil till shimmering and add a clove of garlic.  Infuse the oil (just let the garlic sit in the hot oil) for a few minutes.  Remove the garlic, add the tomatoes, squash, and red pepper.  Add mozzarella on top.  Done.
You can add chicken or italian sausage for more protein, at that moment I was fine with the mozzarella.  It was quick, tasty, and healthy.  When I made it I served it in the empty spaghetti squash shell, saving me any extra dishes.  Serious bonus, considering I hate dishes. Simple.  Healthy.  Easy Clean up.  Delicious.  All good reasons to have this on standby for your next busy week night.
Disclosure:  I was not compensated for any portion of this post.  Luno Olivo sent me their delicious Basil infused Olive Oil.  I would absolutely suggest purchasing any of their products.  Superb quality, amazing flavor!  Click here to purchase their products.

Spicy Basil Spaghetti Squash with Sun-dried Tomato
Nutrition Information
Serving size:

½ of meal

Calories:

319
Fat:

17.6

Saturated fat:

7.1

Carbohydrates:

27.5

Sugar:

11.8

Sodium:

246

Fiber:

6.3

Protein:

13.1

Cholesterol:

40
Prep time:
Cook time:
Total time: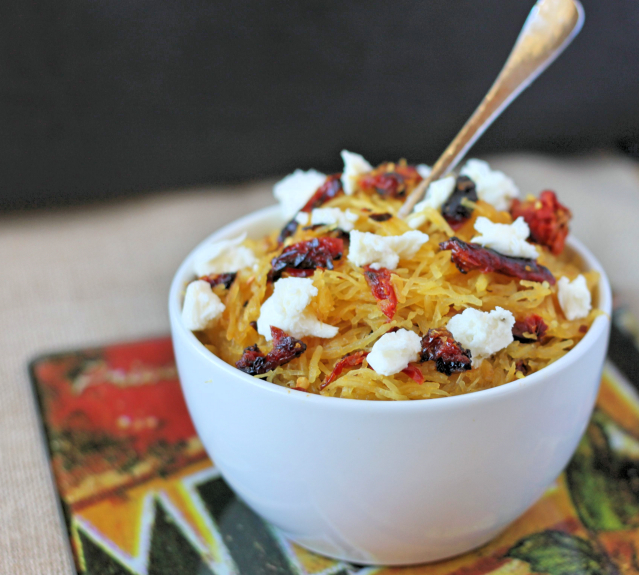 Simple weeknight healthy dish everyone should add into their rotation.
Ingredients
1 small spaghetti squash
1 whole garlic clove
½ tablespoon Luna Olivo Basil Olive Oil
¼ cup sun-dried tomatoes, not in oil
pinch of red pepper flakes
4 oz. of fresh mozzarella cheese
pinch of sea salt
Instructions
Prepare the spaghetti squash, one of two ways. 1. For microwave method: Split in half with a sharp knife. Place face down on a microwave safe plate. Pour ¼ cup of water on the bottom of the place and cover with plastic wrap. Microwave for 8 minutes. Let sit for 5 minutes. Remove from microwave with hot pads. With a fork pull the 'noodles' out of the squash. set aside. 2. For oven method: Split in half with sharp knife. Place face down on a foil covered baking sheet. Bake at 450 degrees for 30 -40 minutes until flesh can be pierced with a fork easily. Remove from oven and let cool till it is easy to handle. Remove 'noodles' from squash, set aside.
Add the olive oil into a hot large sauté pan. Put the clove of garlic in the pan and let the garlic infuse the oil by swirling it around the oil for 2 - 3 minutes. Remove the garlic.
Add the tomatoes and the red pepper flakes to the oil and sauté for 1 - 2 minutes.
Add the spaghetti squash to the pan. Saute for 2 minutes and add salt. Toss the squash with the ingredients, then remove to two separate plates.
Top each plate with half of mozzarella. Serve immediately.