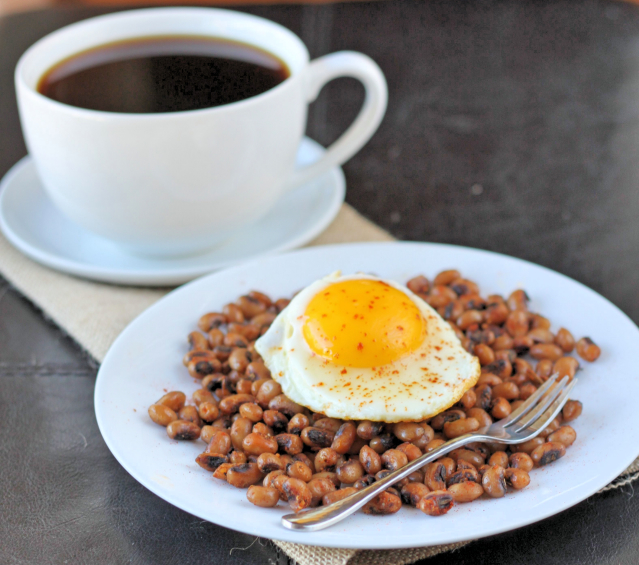 Happy New Year!  This is my first official recipe post of the year and the first one to show off my new philosophy. I am going for a more simple approach regarding recipes this year.  Quicker, simpler, cleaner.
We all have busy lives.  As mine has gotten perpetually busier I realized I haven't had the time to make the recipes I was posting.  That's a problem.
It's not just the holidays, it's the everyday busyness that starts the bad habits forming.  The "I don't have time to make something right now so I am going to pick an unhealthy option" cycle.  So instead of complaining about the problem, I came up with a solution.  Stop complicating things.  Go the easy route and simplify the food I am making.  I am still getting the same result without the stress.
It's a well know superstition that eating black-eyed peas in the New Year will bring you good luck.  My amazing friends at Melissa's Produce recently sent me a lovely gift of black-eyed peas and their Clean Snax.  They know the way to my heart for sure.  Delicious, convenient, clean food.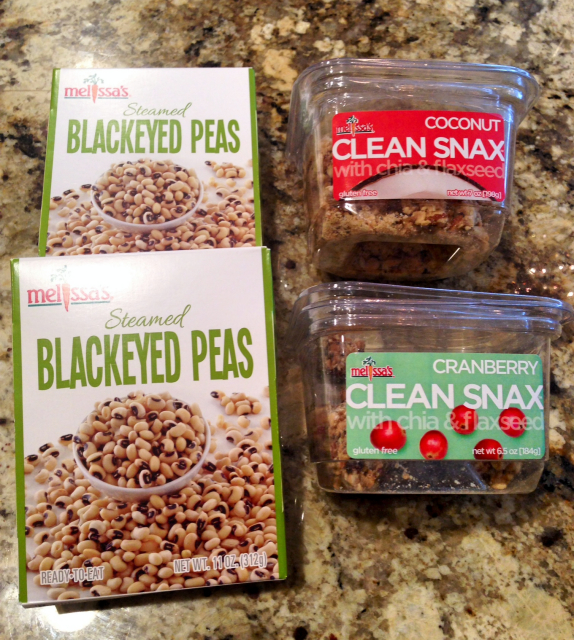 The black-eyed peas come cooked.  There is nothing to do, but open the package, rinse them and break them apart.  In this dish I patted them dry with paper towels to prevent them from steaming in the pan. I didn't want mushy peas.
This dish is perfect for a busy morning, especially after a great workout.  It comes together in a matter of minutes, about 10 to be exact.  It's full of protein, fiber, and good fats.  Everything you need to rebuild muscle and level out your blood sugar.  In simple terms you will be fuller longer and give your body the nutrients it needs after working out.
I hope you are finding 2015 to be everything you hoped for.  Never forget you have the key to your destiny.  If you do the work you will see the results.  Don't let excuses get in the way of your goal.  Find a solution to each excuse and nothing will stop you!  Happy New Year!
Click on the pictures below to buy these wonderful products.
Disclosure:  I was not compensated for writing this post. Melissa's Produce supplied the black-eyed peas and clean snacks for my own use.  All opinions are my own.

Garlic Chili Black Eyed Peas & Eggs
Nutrition Information
Serving size:

2

Calories:

485
Fat:

26.6

Saturated fat:

13.8

Unsaturated fat:

1

Trans fat:

0

Carbohydrates:

33.6

Sugar:

15.9

Sodium:

618

Fiber:

10.7

Protein:

27.8

Cholesterol:

375
Prep time:
Cook time:
Total time: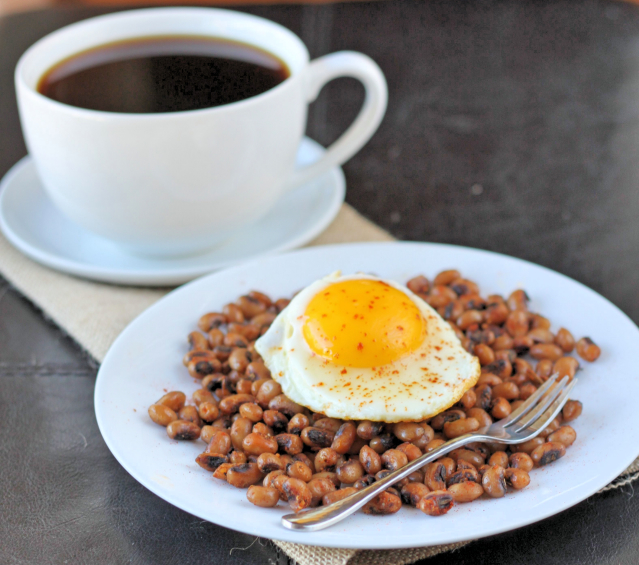 A hearty, protein filled breakfast that comes together in less than 10 minutes.
Instructions
Mix together the ghee, garlic & herb salt, and chili powder
Add the beans into the ghee mixture and combine thoroughly
Heat a large skillet over medium-high heat. Add the beans when hot. Let the beans sit for two minutes, then stir, let sit another two minutes. Repeat for 8 minutes until the beans are heated through and are starting to brown slightly. Do not overcook. If the beans start popping pull off heat.
In another pan, heat the final tablespoon of ghee over medium heat till melted. Spread over pan and fry eggs in ghee till desired temperature is reached. You can add a lid to steam the top of the eggs to cook faster.
Serve two eggs on top of ½ of the beans.