It's that time of year where the resolutions have been broken and you might be contemplating never making one again.  Chances are, working out or eating healthy was one of those resolutions.  Before you give up, you should figure out the reason you are giving up.  For instance, maybe getting up at 4:15 a.m. isn't for you.  Or a gym membership is too expensive.  Even better, you don't want to be a part of the meat market atmosphere in a standard gym.
I stopped my gym membership last year.  Not only did I hate the meat market atmosphere, but also waiting for a treadmill, and fighting for a spin bike.  I've been working out at home since then. Trying to figure out what I wanted to trade the gym out for.
In December I had a brilliant idea, a metaphorical lightbulb went off.  Why not try all of the different options out there?  From there I can decide what works best for me, my schedule and my body.
I know I am not the only one trying to figure out what works for me.  I'm sure everyone reading this has the same issue.  The guilt from a stagnant gym membership is probably killing you.  Your unkept resolution still haunting you.  I'm sure you would love to find your 'thing'.  So why not share my experiences with all of you, making your decision easier as well.
In this series of posts I will write about my experience at each of the non-gym establishments I visited.  I will give you an idea of what to expect, the price point and my take on it.  I have and will be attending a full variety of establishments from barre classes to personal trainers to free options.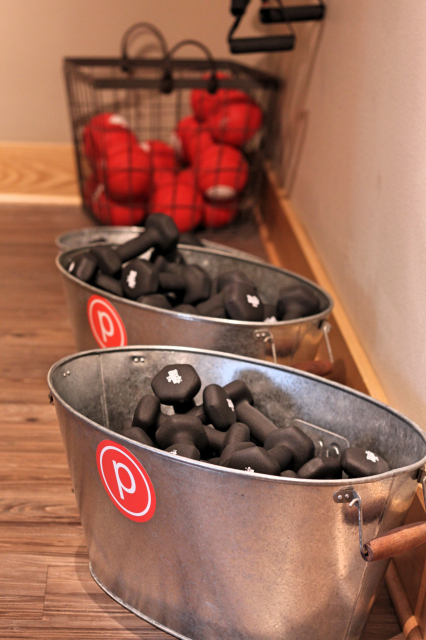 The first non-gym facility I checked out was the new Pure Barre located in Rancho Cucamonga.  Lets just say I was ecstatic when owner Ashley Sinkeldam enthusiastically agreed to be a part of this series.  Ever since I heard there was a Pure Barre opening five minutes from my house I've been dying to try it out.
Ashley recently opened the Rancho location in October of 2014.  Even though the gorgeous studio is still in it's infancy, she and her instructors are well seasoned vets to the Pure Barre way of life.  They are a cohesive unit of *ledge sculptors that take their job seriously.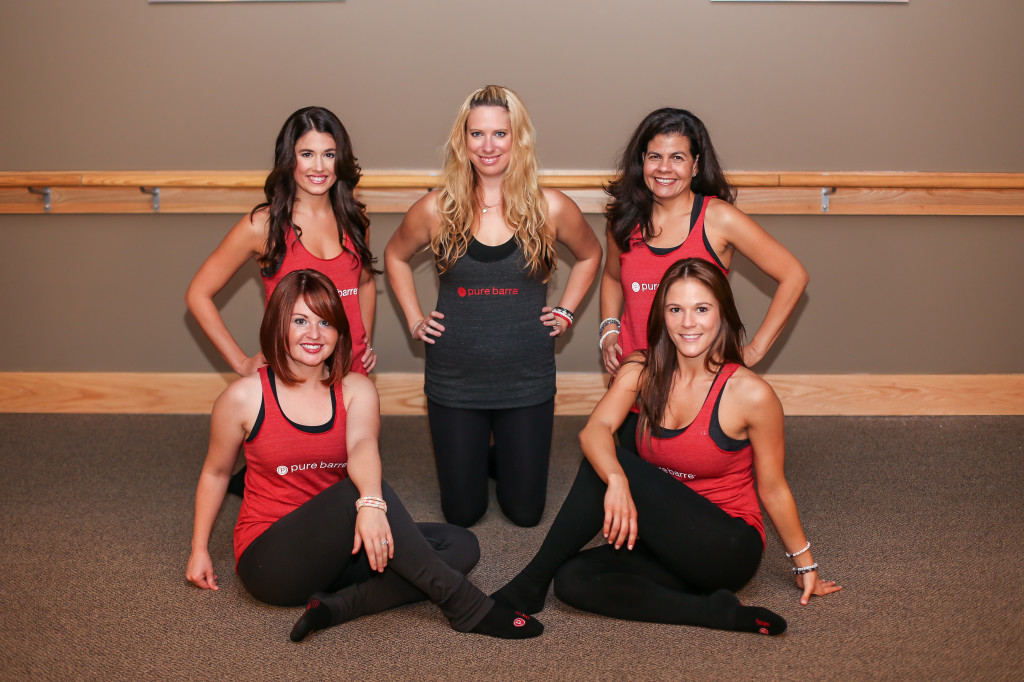 I'll be honest, I had pre-conceived notions about what to expect.  Almost all of them were completely wrong.  I thought the fact that there was ballet barre in the room meant that there was some ballet involved.  Technically, no.  I thought that it would not be as hard as it was.  It was harder than I could have ever expected, and I LOVED that.
Each class is 55 minutes of booty burning, lifting, toning goodness.  There are no breaks, so you are getting more than your moneys worth for the short time you are there.  It takes a class or two to get used to the lingo and the movements, but once you do, you will be tucking, shaking and squeezing to perfection. There is a 'Breaking Down the Barre' class once a month that I would suggest to all newbies, (next one is January 17th @11 a.m.).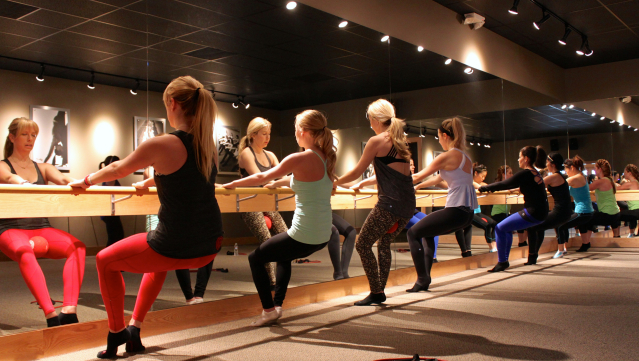 Don't be scared to try this out, yes the pictures above show every girl in Lululemon attire, but that is only because the entire Lululemon staff came in to take a class together the day I was taking pictures.  I have been to four classes so far, and there are all shapes and sizes in each class.
Don't be scared to get the technique right away.  The amazing instructors are very hands on and will correct you in a loving way.  No one will even notice.  All the other members are too busy embracing their shake (it means change is happening), and maintaining their own technique.  There are modifications for newbies.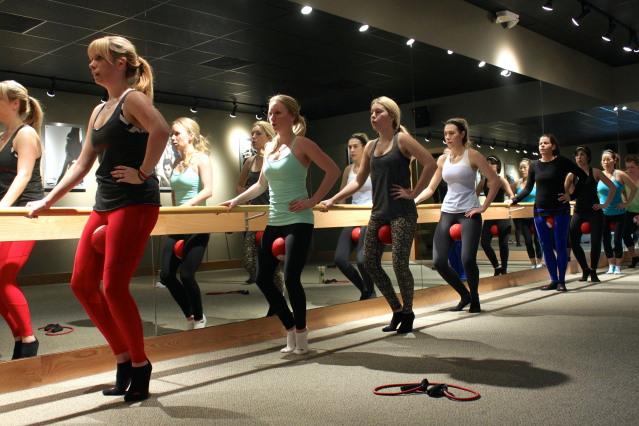 Do make sure you go in early on your first class to talk with the instructor about the lingo.  Knowing how to tuck properly makes a huge difference.
Do ask questions if you have them.  Like "when you say to move an inch is it really an inch?". Small isometric moves people.
Do keep going even though the first class might be overwhelming.  You will get stronger and more knowledgeable with each class. Set a goal for yourself, to hold a move longer, or lose the modifications eventually.
Do go at your own pace, everyone has different skill levels and strength.  You are only in competition with yourself.  Repeat that to yourself.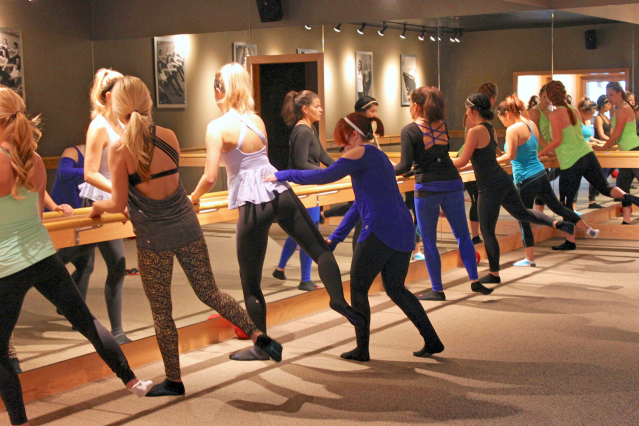 What it is:  Pure Barre is a mesh of pilates, and yoga, utilizing isometric movements to "lift, tone, and burn" (#LTB) every inch of your body without any high impact moves.
What to bring:  Just yourself in pants (no shorts allowed) and a tank, socks and some water.  They sell grippy socks for $12, which I would recommend, so you don't slide all over the place.  All the equipment is provided.
What to expect:  Each class starts out with a warm up, then stretching.  From there you will head to the barre where you will earn your shake.  Figuratively and literally.  Expect to stretch right when you need it most.  After the barre you will head to the floor for targeted excercises. that will lift your ledge and tone your abs.  All followed by a much needed final stretch.
Where:  8792 19th Street, Rancho Cucamonga, CA 91701.  Click here for a location nearest you (there are 200 locations).  To call the Rancho location, dial (909) 944-4978.
When:  There are classes seven days a week.  Click here to find a time that works for you.
Cost:  $25 a class, if you buy them as a single class.  Each studio has a special price your first month $99 unlimited classes, this is what I reccomend..  It's a an awesome deal!   BONUS:  If you mention Decadently Fit you will get a bonus week free**!  Click here to sign up!
Why I really love it:  Pure Barre targets muscles that I never work out on my own.  I was extremely sore the first time, and I work out quite a lot.  In just four classes I am are already seeing signs of the infamous *ledge.  I love the fact that all of the exercises are low impact.  I can't wait to see what a month of classes will do!
Ready to join me at the barre?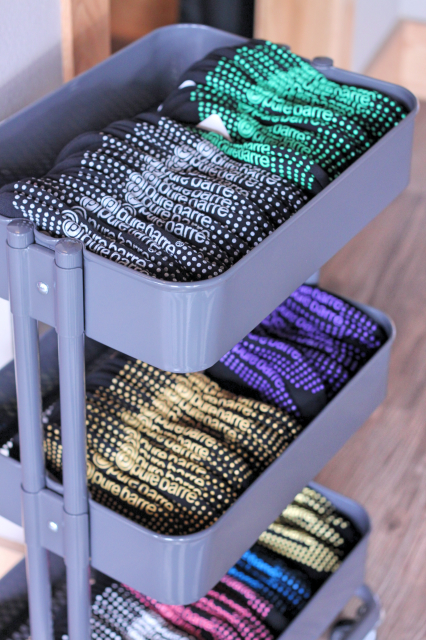 *ledge – adjective –  the lack of space between your booty and the top of your thigh.  a.k.a. an extremely lifted and toned booty.  LOVE.
**Must purchase one month before adding the free week on.
Disclosure:  I was not compensated to review the classes at Pure Barre.  The fee for four classes was waived so that I could experience and review them for purposes pertaining to my blog series.  My absolute love for this type of exercise and the opinions expressed in this post are entirely my own.