Hatch Chili Quinoa Stuffed Zucchini - Plus a Giveaway!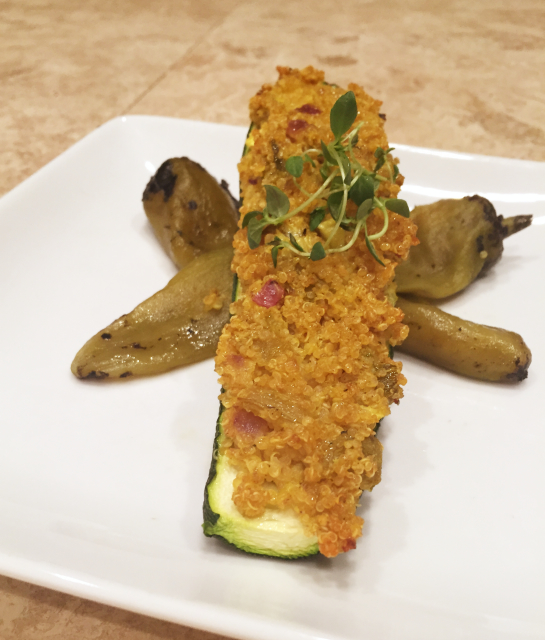 4 zucchini, split in half
2 cups cooked quinoa
1 teaspoon curry powder
½ cup greek yogurt
½ teaspoon sea salt
½ cup red onion, diced
3 roasted hatch chilis, peeled, and diced
8 tablespoons cheddar cheese (optional)
Preheat oven to 350 degrees.
Remove the insides of the zucchini, leaving an edge all the way around the zucchini to hold in the filling. Roughly chop the insides and set aside in a medium size mixing bowl
Saute the red onion in 1 tablespoon olive oil over medium heat for 5 minutes or until translucent.
Add the red onion to the mixing bowl, along with the quinoa, curry, yogurt, salt, and chills. Mix to combine.
Place the zucchini on a cookie sheet, then scoop the quinoa filling into each zucchini boat.
Bake for 30 minutes, then top with cheese if desired. Bake another 5 minutes to melt cheese.
Serve immediately.
Recipe by
Decadently Fit
at http://www.decadentlyfit.com/2015/08/25/hatch-chili-quinoa-stuffed-zucchini-plus-a-giveaway/