Spicy Basil Spaghetti Squash with Sun-dried Tomato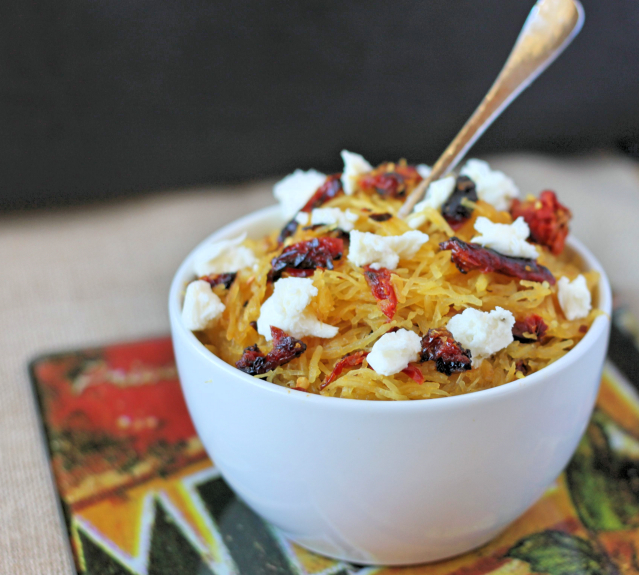 1 small spaghetti squash
1 whole garlic clove
½ tablespoon Luna Olivo Basil Olive Oil
¼ cup sun-dried tomatoes, not in oil
pinch of red pepper flakes
4 oz. of fresh mozzarella cheese
pinch of sea salt
Prepare the spaghetti squash, one of two ways. 1. For microwave method: Split in half with a sharp knife. Place face down on a microwave safe plate. Pour ¼ cup of water on the bottom of the place and cover with plastic wrap. Microwave for 8 minutes. Let sit for 5 minutes. Remove from microwave with hot pads. With a fork pull the 'noodles' out of the squash. set aside. 2. For oven method: Split in half with sharp knife. Place face down on a foil covered baking sheet. Bake at 450 degrees for 30 -40 minutes until flesh can be pierced with a fork easily. Remove from oven and let cool till it is easy to handle. Remove 'noodles' from squash, set aside.
Add the olive oil into a hot large sauté pan. Put the clove of garlic in the pan and let the garlic infuse the oil by swirling it around the oil for 2 - 3 minutes. Remove the garlic.
Add the tomatoes and the red pepper flakes to the oil and sauté for 1 - 2 minutes.
Add the spaghetti squash to the pan. Saute for 2 minutes and add salt. Toss the squash with the ingredients, then remove to two separate plates.
Top each plate with half of mozzarella. Serve immediately.
Serving size:
½ of meal
Calories:
319
Fat:
17.6
Saturated fat:
7.1
Carbohydrates:
27.5
Sugar:
11.8
Sodium:
246
Fiber:
6.3
Protein:
13.1
Cholesterol:
40
Recipe by
Decadently Fit
at http://www.decadentlyfit.com/2015/01/16/spicy-basil-spaghetti-squash-sundried-tomato/