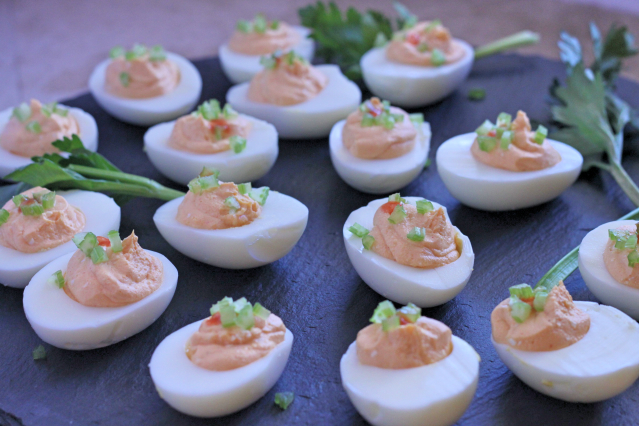 Deviled eggs are a pretty popular contribution to Easter celebrations.  Mostly because of the crazy tradition of hiding and finding hard boiled eggs in grass and dirt.  Who started this crazy tradition?  The germaphobe in me cringes. If your household is like mine there is an abundance of hard boiled eggs looking for new uses after the binge eating is over.  There is the obvious egg salad, or as an ingredient in a cobb salad.  My favorite use is the deviled egg. Usually I am a very simplistic lover of the deviled egg.  The less fuss and simpler the ingredients the better, but I love a challenge. I was recently asked to take part of an amazing giveaway with  Kerrygold cheese and butter.  If you have never have a KG product you need to remedy that situation ASAP.  Their products  are made from cows that graze on grass in the hills of Ireland.  Happy cows.  Grateful cows, that make their product with love that you can taste.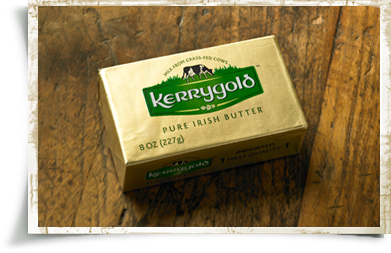 I'm sure you are wondering if cows eating grass makes a difference.  I can say empathically that it does.  The old saying "You are what you eat", not only applies to the cows, but to us as we eat the byproduct of what they eat.  The taste is cleaner than butter and cheese made from a grain fed cow. Not only is the taste better, but there are health benefits to eating the products of grassfed cows.  The butter is yellow in color due to the high levels of beta carotene and is hormone-free.  Did you know that there is a significant amount of Vitamin K2 in the butter made from grassed cows?  K2 is responsible for decalcifying our arteries.  Consuming grassfed butter can lower heart disease, (authority nutrition.com).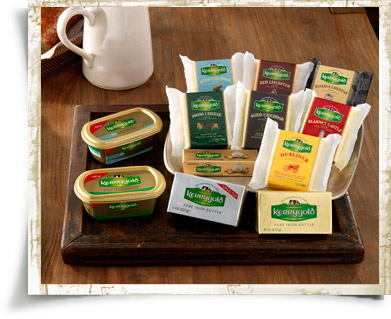 A better question begs to be asked.  Why in the world would you consume anything else?  Especially when you can buy Kerrygold products almost anywhere these days, even Costco. They have some amazing flavors in their cheese line.  From their infamous Dubliner to different types of cheddars, swiss, or the more complex Dubliner with Irish Stout, or Aged-Cheddar with Irish Whiskey and the Irish Cashel Blue Cheese.  Click here to learn more about each cheese.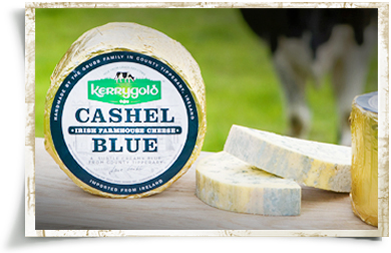 After receiving a rather large assortment of happy cow cheeses and butters I was challenged to make an appetizer for our monthly Inland Empire Food Bloggers Meeting.  As a group we are giving away a gift basket of KG cheese and butter valued at $175!  Each of us was asked to come up with a recipe show casing the cheeses. Since Easter is on it's way, and like I discussed earlier I am always looking for a way to use hard boiled eggs, I came up with this version of deviled eggs.  I guess they should be called buffalowed eggs though.  The eggs are stuffed full of Kerrygold Irish Cashel Blue Cheese.  There is zero mayo in this recipe, using protein packed, tangy greek yogurt instead.  The addition of buffalo sauce in the eggs leaves a spicy finish on the back end.  Diced celery gives the eggs a lovely crunchy texture.  My favorite part of these spicy, cheese filled eggs?  There are only 84 calories for two of these babies. This is what the other members of our IEFB group made with their cheese and butter:
From Sue at It's Okay to Eat the Cupcake A Dubliner Cream Scone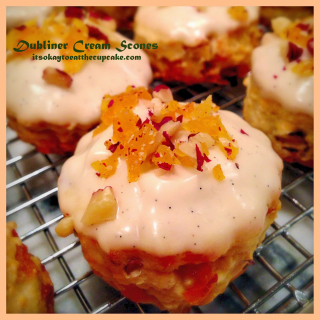 Cottage Pies from Sara at My Imperfect Kitchen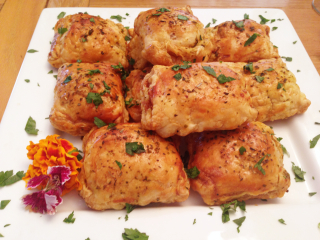 Kerrygold Beer & Cheese Pairing from Natalie at The Devil Wears Parsley
Dubliner Judge made by Christy at Confessions of a Culinary Diva
The recipe for the eggs is below, but before I get to that I want to share what is in the Kerrygold gift basket!
2 wedges Kerrygold Dubliner Cheese
2 wedges Kerrygold Swiss Cheese
2 wedges Kerrygold Blarney Castle Cheese
2 wedges Kerrygold Aged Cheddar
2 wedges Kerrygold Reserve Cheddar
2 wedges Kerrygold Red Leicester
2 wedges of Kerrygold Skellig
2 packs Kerrygold Pure Irish Butter
2 packs Kerrygold Unsalted Butter
2 packs of Kerrygold Garlic and Herb Butter
2 packs of Kerrygold Softer Butter
A $175 estimated retail value!
Buffalo Blue Cheese Stuffed Eggs
Nutrition Information
Serving size:

8

Calories:

84
Fat:

4.2

Saturated fat:

1.4

Carbohydrates:

.8

Sugar:

.6

Sodium:

241

Fiber:

.1

Protein:

6.5

Cholesterol:

164
Prep time:
Cook time:
Total time: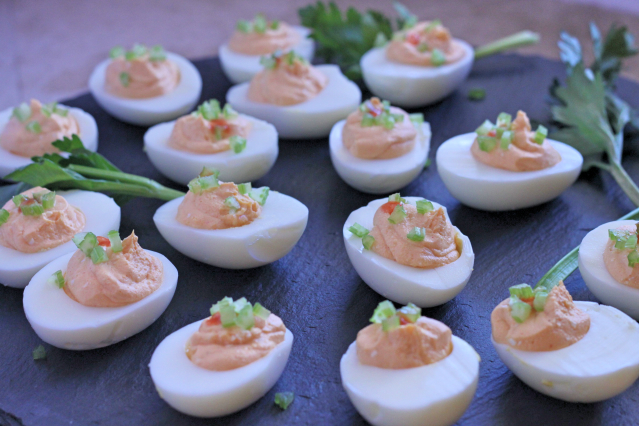 A playful, twist on deviled eggs. Cashel Irish Blue Cheese is paired with spicy buffalo sauce and topped with crunchy celery.
Ingredients
8 eggs, hard boiled, peeled
5 tablespoons plain 0% greek yogurt
3 tablespoons Franks Red Hot Sauce
5 tablespoons finely diced celery, reserve one for garnish
⅛ teaspoon celery salt
cayenne or chili powder for garnish
Instructions
Slice each egg in half lengthwise. Remove the yolks to a medium size bowl, mashing yolks with a fork.
Add in the yogurt, hot sauce, blue cheese, salt, and 4 tablespoons of celery into the mashed yolks. Combine ingredients till smooth, adding more greek yogurt 1 tablespoon at a time until the mixture reaches desired consistency. It should not be too dry, but easy to pipe out of plastic bag.
Scoop the blue cheese mixture into a piping bag or ziploc bag. Pipe about a half tablespoon of the mixture into each egg white half.
Garnish the eggs with remaining celery, and sprinkle cayenne or chili powder on top of each.
Refrigerate till ready to serve. Can be made up to a day before.