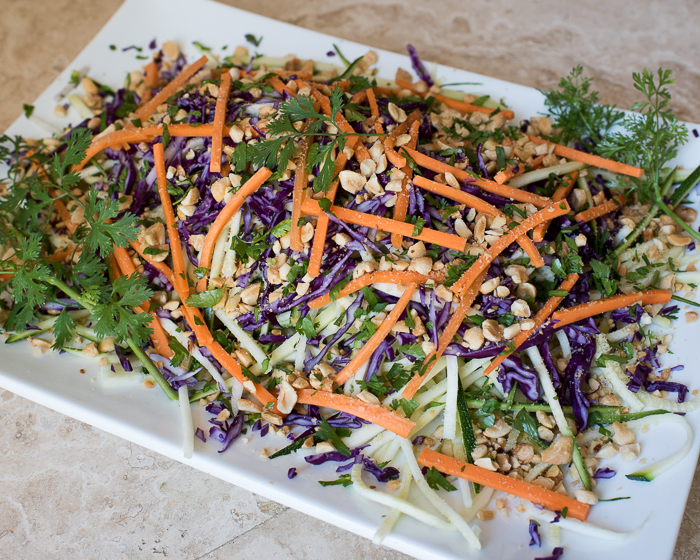 Sometimes it's the simplest things in life that make your day.  A smile from someone, a cat purring loudly in your face or even food.  I hate to admit it but food makes my day quit often.  Lately I have been on a tirade with Thai food.
I can not get enough Thai food.  Curry, coconut milk, tamarind, spicy everything.  If I was stranded on a desert island I could eat Thai food the rest of my life.  Oh wait, isn't Thailand a ton of islands?  I want to be deserted on any one of them.  Now.
In the meantime, I will have to live with making my own at home.
Since the weather has gone from quadrapolar (yes I made that up),  can't decide what season to be, to I live in an oven hot, cold food is a must.  Cold Thai inspired food equals perfection right now.
Recently my Inland Empire Food Blogger posse came over to share their newest salad creations with me.  I am incredibly lucky to have such talented friends that make to die for food.  I brought this Asian beauty to the table, literally.
My addition was quick, refreshing, spicy, salty and slightly sweet.  You can add grilled chicken to the salad to make it a complete meal.  Whatever you do to this salad just make it.  The dressing is to die for and will quench any Thai cravings you have.  Since it's low in carbs you can have as much as you want!  Dive in fork first!
Here are the links to the other great salads my friends brought:
Natalie from The Devil Wears Parsley made a Cuban Sandwich inspired salad.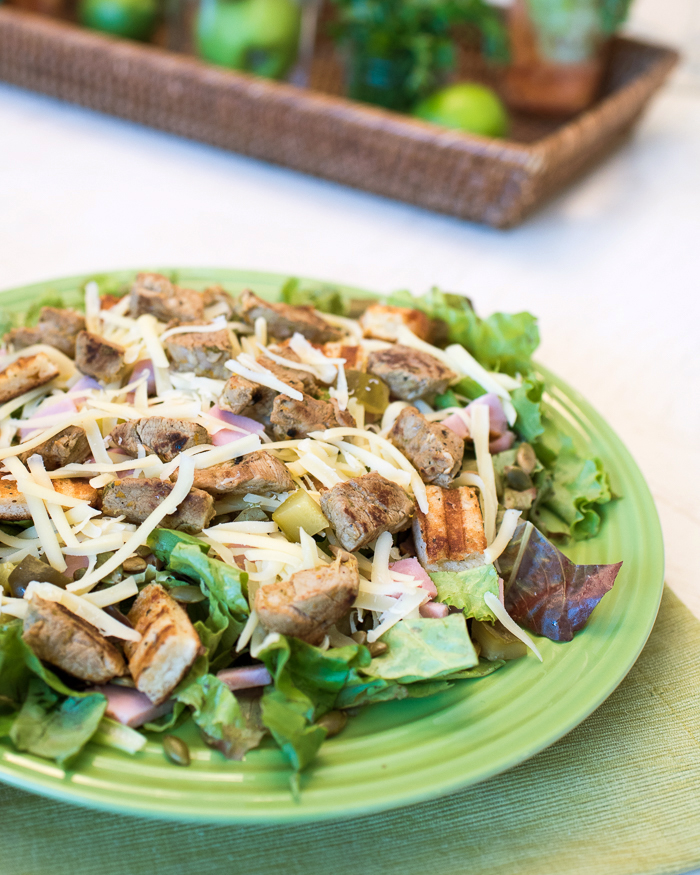 Sue's Italian inspired Salad from It's Okay to Eat the Cupcake has home made pizza croutons!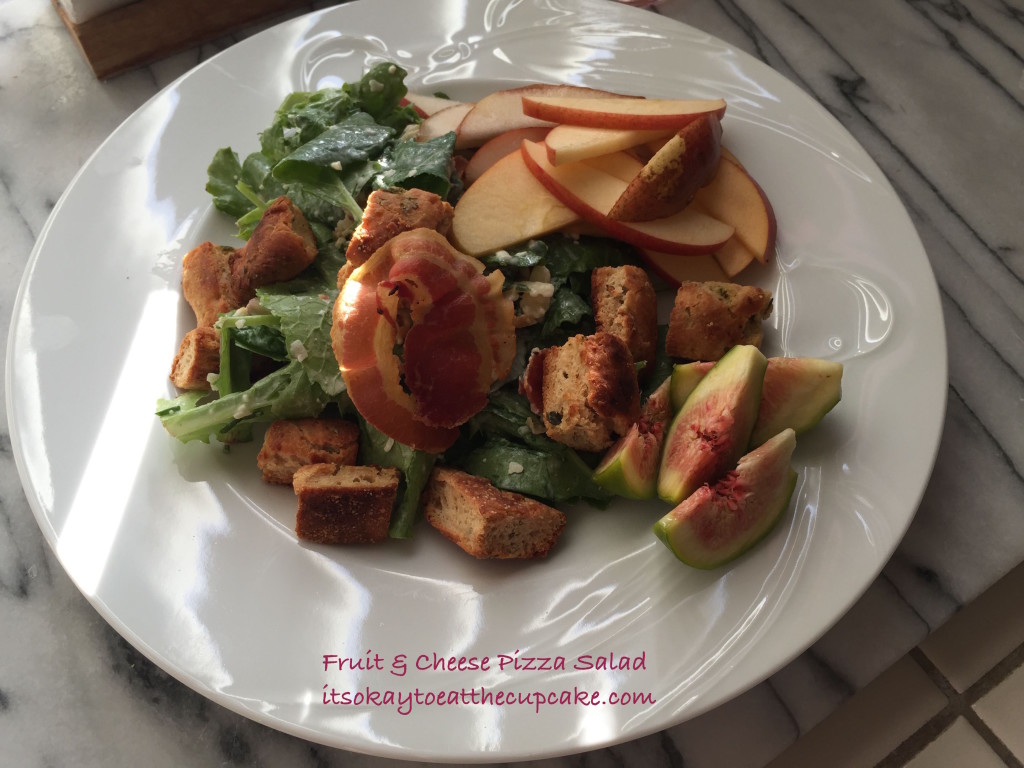 Sara's baja inspired Spicy Watermelon Salad made my mouth so happy, her recipe is posted on her blog My Imperfect Kitchen: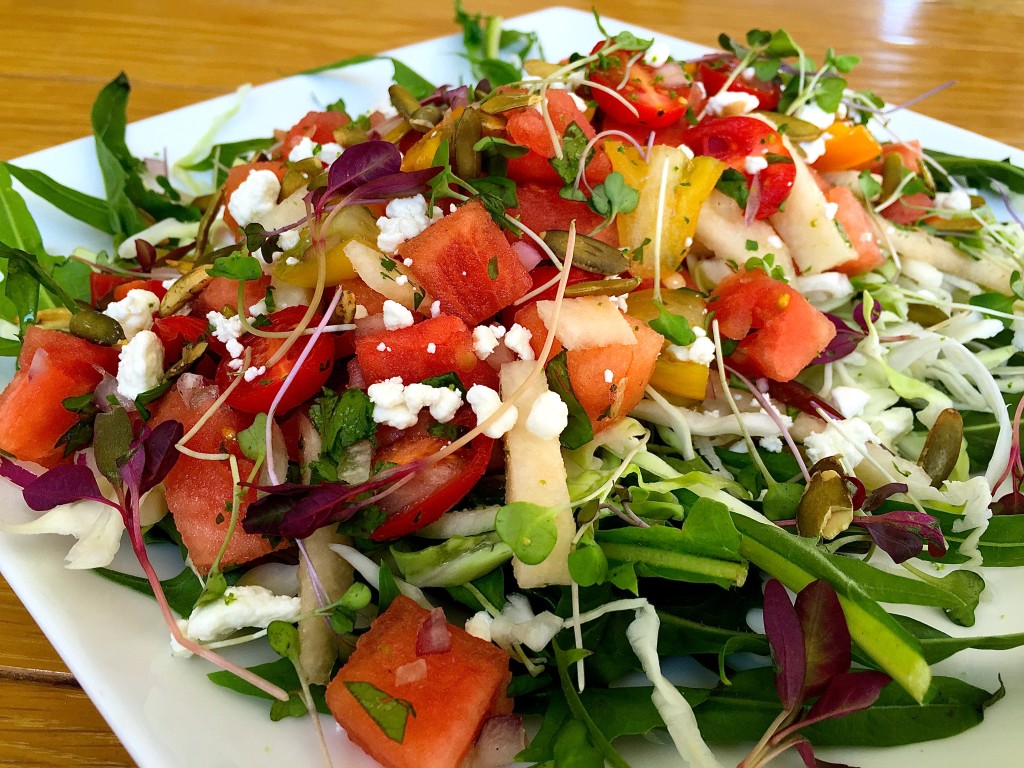 Thai Zucchini Noodle Salad
Nutrition Information
Serving size:

⅙

Calories:

85
Fat:

3.5

Saturated fat:

.6

Carbohydrates:

10

Sugar:

6.4

Sodium:

414

Fiber:

3.1

Protein:

3.9

Cholesterol:

0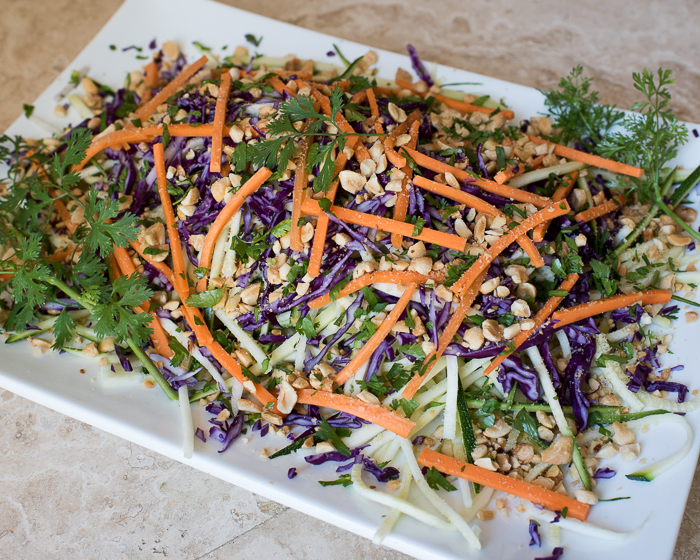 Ingredients
3 zucchini, spiralized or julienned into long spaghetti like strips ( I used a mandolin)
¼ head of red cabbage, shredded
1 large carrot, julienned
2 tablespoons chopped cilantro
¼ cup crushed roasted unsalted peanuts
grilled chicken (optional)
For the dressing:
2 teaspoons fish sauce
2 tablespoons tamari or low sodium soy sauce
1 tablespoon honey
2 cloves garlic, minced
½ teaspoon red pepper flakes
3 tablespoons rice wine vinegar
½ teaspoon ground coriander
1 tablespoon sesame oil
Instructions
Whisk all dressing ingredients together and refrigerate for an hour.
To assemble Salad:
Layer the noodles on the bottom, then the cabbage, the carrots, the cilantro, and then the peanuts. Right before serving drizzle the dressing over the salad. For best results, mix dressing into the salad to coat evenly.