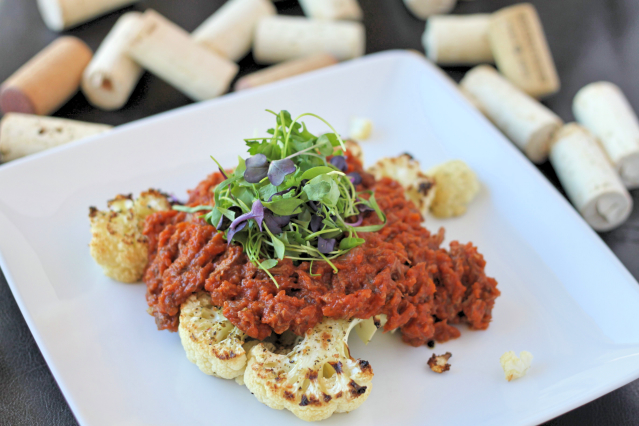 Everyone has a signature dish on stand by that they make for the people they love.  A dish that comes from their heart and warms their loved one's soul.  It's usually a dish that gave the chef a happy or joyous feeling that they wanted to share.  A silver lining on a bad day.
My silver lining dish of choice is a hearty beef ragu.  The first time I had it I was out for a girls night at a local Italian restaurant.  From my first bite I was in love.  That dinner was such a wonderful memory that I have forever tied the luscious flavor with that happy time.  Thus, my love dish was born.
The problem with my love/silver lining dish is that it's not the healthiest in its original form.  There is a lot of fat laced into and on the outside of boneless beef ribs.  When you braise them the fat melds into every fiber of the meat and sauce.  Yes, it's to die for, but to make it healthier I pull the outside fat completely off the ribs, leaving only the internal fat.  This cuts down the fat factor immensely.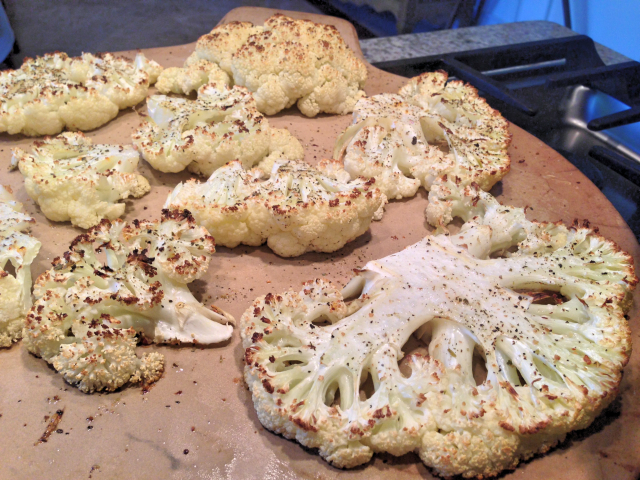 Adding to the unhealthy factor, the original dish was served on a bed of orrechiette (ear shaped pasta).  Although the dish was perfection in this combination, the carbs and gluten aren't always welcome at my dinner table.  Since cauliflower is one of my favorite cruciferous veggies, I chose to pair the chunky sauce with it.  I roasted olive oil spritzed cauliflower steaks on a pizza stone covered in a garlic herb seasoning.  I didn't even miss the pasta.  The cauliflower had more flavor and the crunchy texture was a nice contrast to the luscious sauce.
The total meal comes in at only 283 calories.  I have no idea what the original meal nutrition stats are, but I can guarantee they would not be pretty.
Whatever your go to love dish is I hope your Valentines day is filled with love.  Not just on the 14th, but everyday.

Short Rib Ragu over Roasted Cauliflower Steaks
Nutrition Information
Serving size:

⅙th

Calories:

283
Fat:

11

Saturated fat:

5

Unsaturated fat:

.5

Trans fat:

.4

Carbohydrates:

14.1

Sugar:

7

Sodium:

855

Fiber:

4

Protein:

7.4

Cholesterol:

22
Cuisine:
American, Healthy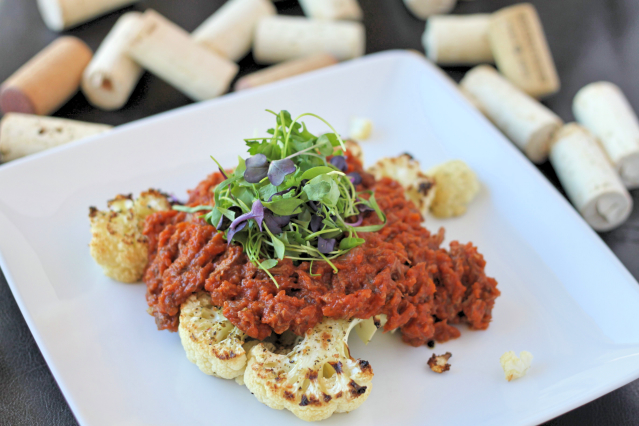 Slow Cooked Short Rib Ragu is ladled over roasted cauliflower.
Ingredients
For Caulifower Steaks
1 head of cauliflower, washed and patted dry, outer leaves removed
Melissa's Produce "My Grinder" Organic Garlic & Herb Sea Salt
Olive Oil
For Short Rib Ragu
1½ lbs of boneless beef ribs, visible fat removed
1 carrot, peeled and diced
2 celery ribs, diced
1 brown onion, diced
3 garlic cloves, minced
2 tablespoons olive oil
1 teaspoon sea salt
½ teaspoon crushed red pepper
1 tablespoon dried basil
½ cup red wine (I used a cabernet)
1 28 ounce can organic diced tomatoes
1 15 ounce can organic diced tomatoes
4 tablespoons organic tomato paste
2 bay leaves
sea salt and pepper to taste
Instructions
For Short Ribs
Pre-heat oven to 325 degrees
Pat the ribs to remove any moisture. Sprinkle with sea salt and pepper on all sides.
Heat a large dutch oven over high heat, then add olive oil when hot.
In 2 batches sear all sides of the ribs. Sear each side for about 2 minutes or until brown. If the meat sticks to the pan when you try to flip it, leave it on for another minute. Remove ribs to a nearby plate after all sides are seared.
Add the onion, carrot, and celery, salt, red pepper and basil to the same pan the ribs were in. Saute for 5 minutes or until soft, stirring occasionally.
Pour in the red wine and scrape all the brown bits off the bottom of the pan (a.k.a. degalze the pan). Reduce the wine by half, about 2 - 4 minutes.
Add the tomatoes and bay leaves, combine well.
Return the meat and the juices to the dutch oven submerging them in the tomato wine sauce.
Put the lid on the dutch oven and cook in the oven for 2½ hours.
Remove the meat from the sauce to a cutting board. Set aside.
Using a hand blender or use a regular blender, pulse the sauce so that the veggies are coarsely pureed. There should be some texture left in the sauce.
Return the meat back to the sauce and stir to combine.
For the Caluiflower
Preheat oven to 425 degrees
Cut the head in 2 inch thick slices. The ends will not come off looking like steaks but you should get at least 2 steaks from one head.
Spray each side of the cauliflower steaks and pieces with olive oil, and then spring both sides with Garlic and Herb Sea Salt.
Place on a pizza stone or baking sheet.
Roast for 20 minutes.
Serve with ragu on top.