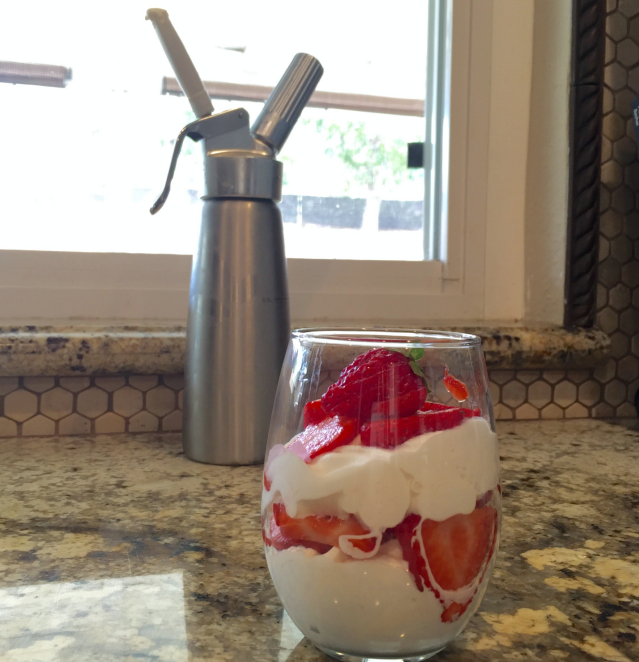 I'm a sweet junkie.  I'll never be able to give up sweets no matter what.  I've tried and it's never worked.  So, in order for me to maintain a carb/sugar level that doesn't make my Fitness Pal scream I have to come up with alternatives.
When I was pregnant with my second son I had gestational diabetes.  It was awful considering I was also on bed rest due to pre-term labor and blood clots.  Every night before bed I had to eat a snack to maintain my blood sugar levels through the night.  Every night my husband/nurse would bring me strawberries and sugar-free Cool Whip.  We figured out it was the perfect carb/sweet amount I needed to maintain my blood sugar and give me the sugar fix my pregnant body was craving.
If you have ever read the ingredient list on a tub of Cool Whip you know that most of the words are extremely hard to pronounce, a.k.a a chemical storm of 'ingredients'.  Although I was able to keep my sugar levels down with the sugar substitutes I was trading one evil for another.
Fast forward to now.  I have zero time to put together low-fat/low sugar desserts that will quench my insatiable sweet tooth.  Then it dawned on me, if I cut up a ton of strawberries on Sunday and come up with a low sugar, whole ingredient alternative for the whip cream I used to enjoy I would be set.  Then another light bulb precariously teetered above my chemistry and anatomy swollen brain, I have an Isi whip cream dispenser.  That would aid in the instant gratification need.  So, long story short this super simple quick recipe was born.  Yes, you do need a whip cream dispenser, but trust me it's worth every penny.
Click the whip cream canister image to be directly taken to amazon to purchase!

Low Carb Whipped Cream
Author:
<span class="mceItemHidden" data-mce-bogus="1"><span></span>Rebekah Gusman</span>
Nutrition Information
Serving size:

¼ cup

Calories:

76
Fat:

7.2

Saturated fat:

4.8

Carbohydrates:

2.5

Sugar:

2.5

Sodium:

8

Protein:

0

Cholesterol:

32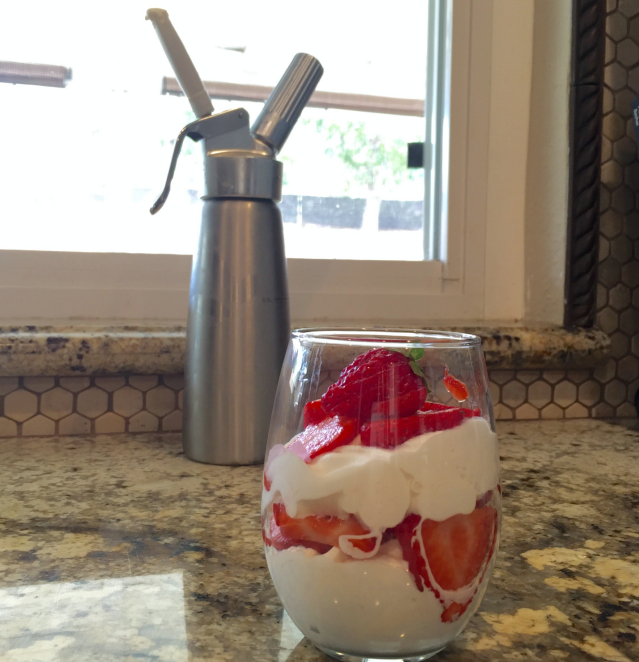 Low Carb Whipped Cream
Ingredients
1 tablespoon honey
14 oz. whipping cream
2 teaspoons vanilla
Instructions
Melt the honey in a microwave safe dish on your melt function or on 10% power for 1 minute or until melted.
Stir in the cream until combined with the honey, add in the vanilla.

Transfer mixture to an Isi whip cream dispense, only filling till max fill line. Screw the lid on tightly then add nitrous canister, screw in tightly.

Refrigerate for 4 hours or until cold.
Shake before dispensing whip cream.
Click the whip cream canister image to be directly taken to amazon to purchase!